Adventure trip on Atyla ship
Around the Galician Coast (July)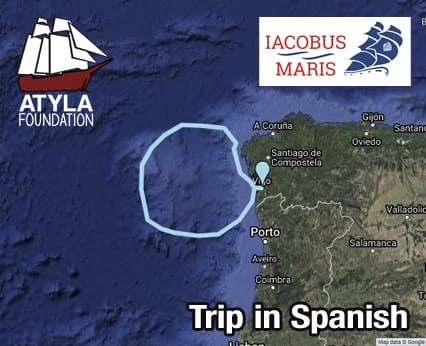 Embarkation: 24th of July at 16:00 — Vigo, Spain
Disembarkation: 31st of July at 11:00 — Vigo, Spain
Trying to learn Spanish? Use this trip to practise and improve it! Visit the Cíes Islands for a day and sail around the famous Estuaries of Galicia, the "Rías Baixas". If you also join the next trip, you get one extra day on board for free.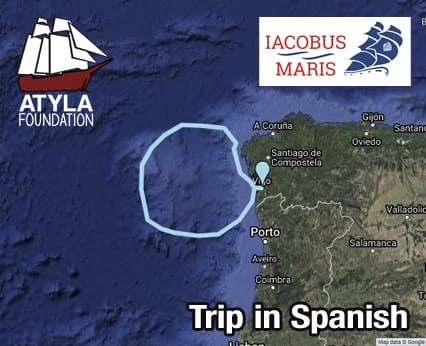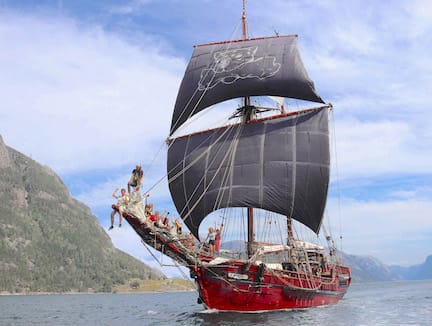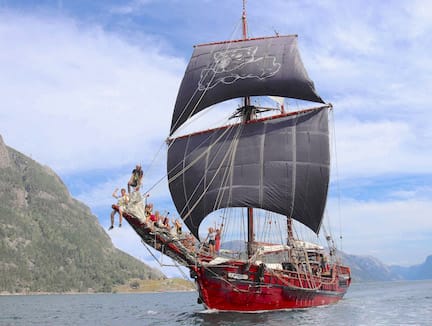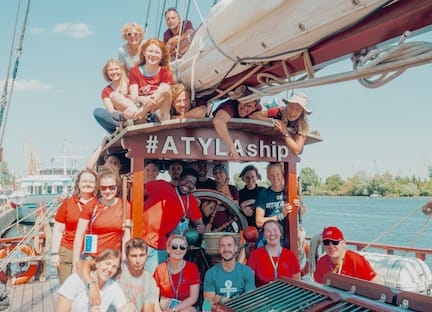 Join Atyla as she explores the Galician coast with her world-famous Rías, or funnel-shaped estuaries that create a coastline perfect to enjoy by boat.
During this week-long sailing adventure, we will anchor for a day at the Cíes archipelago and nature reserve. Once there you'll be able to choose to either stay at the pristine beaches to swim and enjoy the sun, or go for a hike with the other adventurers on board.
This trip conveniently starts and stops at the same location making your travel logistics simple. It also gives you the chance to partake in the last celebrations of the Ruta Iacobus Maris 2022 festivities before this trip sets sail.
If you are trying to work on your Spanish language skills in a hands-on context, this trip is perfect for you! This is a great language-learning opportunity with a mix of native and non-native Spanish speakers while being out on the open water. If two weeks of practice sounds better than one, register for the following sail adventure as well and get one free night in between the two trips on board!
There will be a focus on you enjoying learning and practising your sailing skills from rigging to navigating and keeping watch, as well as sailors' terms and vocabulary. We will also make use of the challenges we face at sea to learn and grow. Through these challenges, we will focus on becoming better, more sensitive intercultural communicators, team players, and leaders who take self-accountability and practice critical thinking.
Adventure sailing with Atyla, there is time for complete bliss while also becoming more resilient for the world! We look forward to seeing you in Galicia!
All included:
Other info:
Frequently Asked Questions
Can I book now and cancel if my plans change?
Yes! We offer
free cancellation
for a period of 15 days after you book your trip.
That way, you can book now and secure your spot on board, and then have time to organise the logistics of your trip with the certainty of getting your money back in case something doesn't work.
Check our cancellation policy for full details
What's the difference between normal and premium participant?
Basically
participants
collaborate in all the activities on board, and
premium participants
get to choose what they do and what they don't.
People that want to have more free time when we arrive at port, or that are not so physically fit, or that just want to contribute more to our charity book their trip as premium participants. Then it's still up to them if they want to be as engaged as the normal participants.
What is a "private bunk bed"?
Atyla is not a cruise, so we don't have small 2-person cabins. We have group cabins with bunk beds that host from 5 to 9 people.
To keep some sense of privacy, every bunk bed has a thick curtain that can be closed individually.
See some pictures of the cabins on this page.
What is a "private bunk bed"?
Atyla is not a cruise, so we don't have small 2-person cabins. We have group cabins with bunk beds that host from 5 to 9 people.
To keep some sense of privacy, every bunk bed has a thick curtain that can be closed individually.
See some pictures of the cabins on this page.
What happens after I book?
You will receive
an automated email
with your booking confirmation (if you don't see it please look on your spam folder or your "updates" folder). If you don't receive it (and you're sure that your booking went through) get in touch and we'll help you out.
That email contains an "embarkation form" that has to filled out by every person joining the trip. If you booked for somebody else you'll have to send them the link to the form.
When you fill out your embarkation form you will receive a "Welcome pack" with all the information you need to be ready for your adventure.
If there is any relevant change to your trip after you've booked, we'll inform you accordingly via email. And if it's a big change we'll let you change or cancel your booking for free.
Which measures are taken against Covid-19?
Most probably, we'll be doing Antigen tests to everyone on board upon embarkation. With that we'll be able to create a bubble on board and avoid using masks during the trips.
The exact measurements will depend on the evolution of the pandemic and the regulations in place when your trip starts.
You can see here our current Covid-19 protocol in more detail.
If any trip needs to be cancelled, it will be indicated on this page, and everyone with a booking will be informed per email and compensated according to our cancellation policy.
Which trip should I choose?
We would recommend you to choose according to:
The dates that fit for you (if you can avoid the middle of the summer -the high season-, you'll find better prices).
The duration that you're looking for (if you want a longer length, you can do two trips in a row).
The area that is more convenient/interesting for you.
The reason why we recommend this is because, honestly, even though every trip is unique, our trips are not too different from one another: Even if the challenges that we do on each trip are always changing, the program on board is always the same.
The weather conditions do make trips different (tougher and more adventurous, or easier and more chill), but these we cannot foresee until right before the beginning of the trip.
So, check the description of the trip(s) that fit your schedule, and choose one or more. You'll be good no matter what you choose.
Can I book more than one trip?
Of course! Each of our voyages is unique and there is no maximum stay on board. We actually recommend people to join us for at least 2 weeks to fully experience our programme and the different challenges on board.
To book several trips in the same booking add them one by one to the shopping cart and then proceed to the checkout.
Can I book for someone else?
Yes, that's not a problem. You can also book several spots on the same trip for a group of people. The name in the booking is just for the invoice.
The booking confirmation includes a link to the form that has to be filled out by the people actually doing the trip. Just send it to them after booking.
What if the trip I want is sold out?
We recommend you to find a different trip since normally our trips get sold out with confirmed reservations. If no other trip fits, you can send us an email and we'll let you know if there are any cancellations.
How is the booking process? Is it safe? How do I pay?
To book a trip you just need to click on it and select "Add to cart". This will get you to the checkout page where you can introduce your data and do the contribution towards the costs of the trip.
"Contribution" means that you're not doing a payment for a service or purchasing a travel ticket (because you embark as training crew). This doesn't reduce your rights as a customer.
The payment system that we use for credit and debit cards is called Redsys. This is the system chosen by our bank, which allows for secure encrypted payments and complies with all standards of data protection.
The other automated payment option that we offer is PayPal (also a secure and well-renowned provider). Bitcoin is also an alternative to pay for your trip, keep reading to learn how.
If you experience problems during the payment process, send us an email and we'll allow you to do a bank transfer.
Do I need to pay 100% upfront?
Normally yes, because most of the costs of your trip come from having the ship ready when you embark (maintenance costs and organising costs), we need the contribution upfront.
But we understand that this can be difficult or even scary for some people, that's why we created the option to book with a 25% deposit. This option has a cost of 50€.
Can I pay with Bitcoin?
Yes you can! Atyla ship Foundation has been accepting Bitcoin as a payment method since 2017!
Transfer the corresponding amount for your chosen trip to the following wallet (3HkbsAuvq86BT8yHtigmdnnk51Dn78wj9L) and right away send us an email telling us about your transfer and about which trip you'd like to do.
Or first email us, and then do the transfer, both work.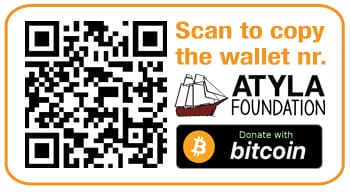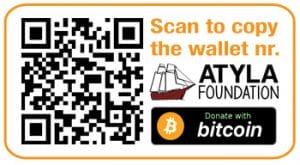 I can't afford to pay, can I still join?
As a social not-for-profit organisation, we don't want to exclude anyone from participating on our trips because they lack the funds.
There are different things you can do to get funding:
What language are the trips in?
All our adventure trips are in English and Spanish.
English is the main language, and Spanish is there as a support language to welcome people that don't speak English.
People from all countries are welcome on board because the English on board is "Easy English".
Of course, you don't need to worry about being left out in either language, because we take good care of never letting that happen.
Can someone organise my arrival to the ship?
Yes, there are agencies that can organize that for you. We can recommend Amaia Travel. They know our trips and are specialists in delivery trips to ships. They can find a nice connection for you and probably also a good price (and they, of course, speak English). Ask them!
They can of course organize both your trip to arrive to the ship, and your trip from the ship back home. They can organize both, or just one, up to you.
What is the Covid-19 protocol?
The exact measurements will depend on the evolution of the numbers and the regulations in place when your trip starts.
Expected for 2023 is:
Covid 19 vaccination or testing will most probably not be required unless the official recommendations get again more strict.
No masks will be required for crew on board (including participants). If the number of cases is high and the authorities recommend it, we might get everyone who embarks tested, to create a "bubble on board" and avoid masks during the trips.
Hygiene measures are kept high, because the cost and inconvenience of doing so are small, and they can prevent other diseases from spreading.
No other special measures or controls are expected.
In the unlikely event that a trip needs to be cancelled for any reason, it will be indicated on this page and everyone with a booking will be informed via email and telephone and compensated according to our cancellation policy.
Do I need any previous experience?
Nope.
Some of the people that join our sailing trips have sailed on many boats. Some others have never sailed in their life.
The experience on board is designed to welcome everyone, and engage both the people that have been at sea before and the total beginners.
Atyla is a Tall Ship that we operate as a training ship, and we treat everyone on board as adults, so you'll be able to choose what you learn taking into account your interests and your starting point.
After booking you'll receive an embarkation form where you'll be able to tell us about your previous sailing experience.
What do I need to bring with me?
Nothing special, the same as any other outdoor adventure. On your booking confirmation email you'll receive a welcome pack with a detailed list of what to bring.
Here is a list of the most essential items:
Waterproof clothing & warm clothing
Towel(s) & wash kit.
Headlamp with red light
Seasickness chewing gum or tablets
Sleeping mask and earplugs
But again, after booking you'll receive a document with a longer and much more detailed list.
What ages will my shipmates be?
Diversity is one of the elements that make the experience on Atyla so special. Our trips welcome people from different countries, with different professions and different social backgrounds. These many different perspectives make the conversations on board very interesting and enriching.
The ages of the people on board normally span from 16 to 65 years of age, and it is very rare that there won't be more people of your same age range in your trip.
We also use the generational diversity as a valuable tool, not only to make everyone feel integrated but also because it is great to learn, work and make friends with people of ages different to yours.
The minimum age to join is 15 years old but if you're coming with a parent or a guardian we can make exceptions for younger ages. Get in touch and explain your case.
You are not too old to join as long as you are fit enough to move around the deck. We've had people as old as 87 joining, and they had a blast. This being said, for people older than 60 we require a medical certificate stating that you are in an ok physical condition to participate in an experience like this. If you are concerned you won't be able to participate fully, you can always book as a premium participant.
The number of people on board on our sailing trips is maximum 24. Check out this page to see more details about the crew.
How is the day-to-day life on board?
On the embarkation day:
Be sure to be at the ship at your embarkation time (look here if you don't know when it is).
You'll be welcomed on board by the crew and we'll do a round of introductions.
The crew will give you a series of briefings related to safety and the life on board, and they'll show you this video.
If the ship doesn't set sail that same day, you'll have a bit of free time to explore the city with your new shipmates.
Sail as crew:
The ship sails day and night, and therefore, the crew gets divided into 3 groups to be on watch. Every 12 hours, you'll be 4 hours on watch and 8 resting (premium participants can choose to skip one or more watches if they want).
Being on watch means being on deck with the harness on, and ready to participate in the following activities with the guidance of the permanent crew:
Keeping the ship on course (this includes taking the helm).
Pulling the ropes and climbing the masts to set the sails (hoist the sails), lower them (strike the sails), and adjust their position.
Keeping track of the ship's position on the sailing chart.
If the engine is running, keeping an eye on the engine sensors and gauges.
Maintenance works if they are required.
Helping with other sailing manoeuvres, like mooring and undocking.
Through all these activities you'll learn how to sail the ship. You'll learn by doing and also from the explanations of the crew.
Challenges & more:
The experience itself, but also our crew, will present you with several challenges. Some of those challenges will be related to sailing and others some not so much.
The idea of these challenges is that you take them as opportunities to get to know yourself better (self-knowledge), reflect on and improve the 8 skills that are part of our program, and grow as a person in general.
There are also many moments of free time during the trip. In those moments you can chat with the other adventurers, relax on your own, read a book, sunbathe, play games (cardgames, boardgames, chess, etc.) play the guitar we have on board (or any instrument you bring), etc.
On most trips, we try to do one or more stops anchoring at a bay or an island along the way. When this happens you'll be able to jump from the ship and swim around, and even go for a hike if you want.
You can check this video to get a fast idea of how living on board the ship is.
Upon arrival at the destination harbour:
We normally have time to celebrate with our shipmates and explore the city.
We often also do open doors and some maintenance jobs in which you'll have to help.
Premium participants can choose not to join these activities and have more time to explore the city.
Can I embark before/after?
It's not possible to embark later than planned. The whole trip is planned to have the participants arriving on time, and the welcome briefings at the beginning of the trip are essential.
That's why we also prefer you not to arrive earlier than planned.
During the embarkation day, you're normally welcome any time to come by and drop your bag, so you can walk freely around town until embarkation time. See this page to check that the ship is in the harbour.
Nevertheless, if you really need to embark one or more days earlier, you can ask us to make an exception. If you've sailed with us before it'll be easier for us to say yes because you already know how to live on board.
In any case, an extra night on board costs 59€, and it gives you the right to join the 3 extra meals of that extra stay.
You can pay for the extra night(s) on this page and then email us to see if you can embark before. If it's not possible, we'll let you know and of course, we'll refund this extra contribution.
Can I disembark before/after?
The day and time indicated on the trip's information is the recommended time, but if you need to disembark before is normally not a problem.
Check the Estimated Time of Arrival to your disembarkation port on the ship's timeline. In principle, you can disembark as soon as we arrive (of course, tell the crew in advance).
Disembarking later is also sometimes possible (latest, when the next group embarks).
If the extra stay is one or more full days, you'll need to pay 59€ per day to cover the costs of meals and the stay on board (you can do the payment on this page).
I'm a professional sailor, can I join?
Yes you can!
All levels of experience are welcome, and if you'd ever want to become part of the permanent crew, joining us for a trip as a participant is the best way for us to get to know you and see your potential.
What if I get seasick?
Unless you know that you don't get seasick, chances are that you will get seasick if we find big waves at some point during the trip.
If that happens, it doesn't necessarily mean that you won't be able to enjoy the trip. It has happened to many of the people that have sailed with us, and most of them were able to enjoy. Here are some things to keep in mind:
Seasickness pills are super effective if you take them on time (at least one hour before the ship starts rocking), if you take them when you already feel dizzy it's too late. Better to be safe: When in doubt, just take them. If you want to be sure, you can ask the crew to let you know whenever they expect the ship to start rocking, so that you know when to take your pill.
Even if you get seasick and the weather doesn't improve, most people get used to the ship's rocking in 2 days. So it's rare that you'd be seasick during an entire trip.

If you get seasick, you can take the sentsation as a challenge to train your resilience and your emotional intelligence: Can you remain positive and enjoy the experience while enduring the horrible way how seasickness makes you feel? How is that situation similar to other moments in life? You can talk with your shipmates about it.
So, if your fear of seasickness is stronger than your desire to join our trips, don't come. But if you really want to do a trip, don't let this fear stop you.
Can I get a vegetarian menu on board?
Yes, and also vegan if you want.
After booking you'll receive an embarkation form where you can indicate these and other details about you.
Can I bring my own food/snacks?
Meals are included in the experience, but if you still want to bring a snack or your own food, you can do so.
We don't normally have much spare space in our fridge, so try to avoid bringing food that requires refrigeration.
Will my mobile phone work?
It depends. If we are sailing near the coast, you might have moments of getting a decent signal. But for the rest of the trip your smartphone will basically be a camera (which is not bad at all).
In general, we recommend everyone to leave their phone away and use the opportunity to do a bit of digital detox and be more present in the moment and with the other adventurers. But of course, you're an adult and you can do whatever you want.
And yes, if anything urgent comes up, we have communication systems in place on board that can be used to get in touch with the mainland.
Still not convinced? Check out these reviews
17% of the people that do a trip love it so much that they repeat within 3 years.
Ready to reserve your spot?