Do you believe in what we do? Make it possible for more people.
Making a donation helps people with fewer resources to join us.
Participants on our trips gain new perspectives and skills that can significantly affect their lives.
Allowing people from disadvantaged backgrounds to also have this opportunity can have a deep impact on them and their communities, thus helping reduce social inequality.
Atyla Foundation is a sustainable project: The income from participants and deck events is enough to maintain the ship and pay the humble salaries of the people involved.
That's why 100% of all donations go to our Scholarship Fund for people that couldn't otherwise join our trips.
Testimonials from people funded
We receive several applications per month. Even if only a few of them pass the selection process, the list of applicants waiting for funds keeps growing because we are not receiving enough donations at this time.
Give someone
a life-changing experience
Or donate manually with a bank transfer:
Name: Atyla Ship Foundation
Address: Ramón de la Sota Kaia 1, 48011 Bilbao, Vizcaya, Spain
IBAN: ES9614910001283000070100
BIC: TRIOESMMXXX
Bank's name: Triodos Bank N.V. S.E.
Reason for transfer: Donation
You can also donate Bitcoin!
Send your donation to this wallet: 3KbHuFyE12cpE4TyTEERYpTy6KBjebyiaM
This wallet only accepts Bitcoins. If you have any other cryptocurrency, please convert it to Bitcoin first. You can email us after your donation to check that we received it.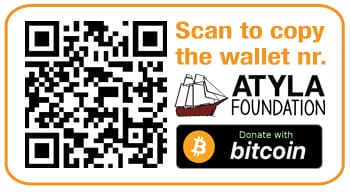 As a private donor you...
help our mission reach the less fortunate.
get an Atyla Donation Certificate.
can get a tax refund of part of the donation.
receive a letter/video from a benefited person.
As a corporate donor you...
give back to your community by asigning the Aid to people in your area (CSR).
get a donation certificate that can give you tax benefits.
can choose among tailored rewards with regional or international reach

(e.g. mentions on social media, branded activities, events on board, letters and/or videos from the recipients of the Financial Aid, etc.).
Your money shapes the world:
Invest on social change