The perfect plan for an active holiday
Atyla and her crew are prepared so that you can participate in all the activities on board with the necessary guidance. Some of them are:
The docking/undocking manoeuvres
Sail manoeuvres (this includes climbing the masts –if you can–)
Navigational watches (this includes taking the helm)
Welcoming people on board during open doors
Happy hour (everyone cleaning the ship)
These activities, plus the coexistence with the others and some challenges proposed by the crew, are used to work on 8 life skills:
Intercultural communication
Emotional intelligence
Critical thinking
Teamwork
Leadership
Responsibility
Courage
Resilience (ability to adapt)
Of course, some parts of the experience are just a pleasure:
Disconnecting: A bit of "digital detox", turning off the phone and forgetting about every day worries.
Open sky: Seeing unforgettable sunrises and sunsets, and having time to appreciate them. Contemplating the stars without any type of light pollution.
Seeing marine fauna: Dolphins and other cetaceans that swim next to the boat, luminescent plankton in the middle of the night, turtles, whales, etc.
Being on a unique ship: Sailing on a wooden boat that looks like a piece of art.
Swimming: Jumping into the water in the middle of the sea (this is only possible on some trips, as it depends on the weather and the sailing area).
Playing and cuddling with Olivia: The ship's dog, she sometimes is on board during the trips (and she's a waterdog, so she doesn't cause allergy).
Improving your English skills: In a relaxed atmosphere, and with a mixture of native and non-native speakers.
Delicious food: Prepared by our professional cook.
Connecting: With people very different from you, united by the bond of the shared adventure.
Exploring: New places, new cities, with the ship as a home and a group of shipmates to explore with you.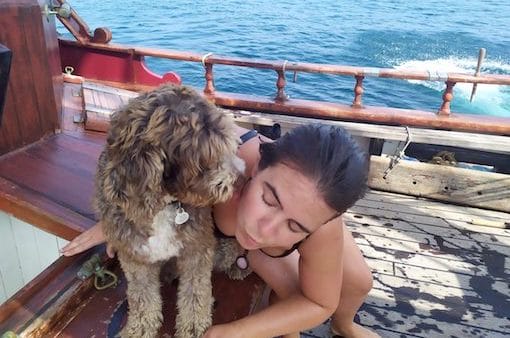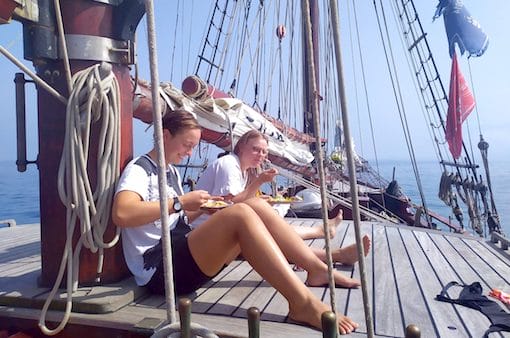 Watch this video about the experience on board:
Read more about the experience
Frequently asked questions:
Normally between 5 and 10 days (check each trip for exact dates). Some people book several trips in a row if they want a longer adventure.
What language is spoken on board?
The official language is English, although having a medium level is enough. If you speak too little English you can sign up as a premium participant so that you can "zone out" if the conversation gets too complicated.
What types of people come on board?
Atyla is super multicultural, so normally we have people from many different countries and ages. Each person has different life stories and the context on board helps to share experiences and learn from this diversity.
Is there a minimum/maximum age to join?
There is no maximum age, it is enough to be fit.
The minimum age is 15 years, although sometimes we can make exceptions if the minors are accompanied by a legal guardian.
Where does the trip start?
Each trip starts and ends in a different place. The description of each trip includes locations, dates and all the necessary information.
Can I get a certificate of my experience?
Yes, just let us know at the end of your trip and we will give you a participation certificate with your name and the dates of your trip.
Please note that, since our focus is on personal development, we don't do official sailing courses (like RYA or similar). But if you have a seaman's book/professional logbook, we can stamp it for the time and miles you did on board.
How are the cabins and the spaces on board?
You can see pictures of the cabins and the interiors on this page.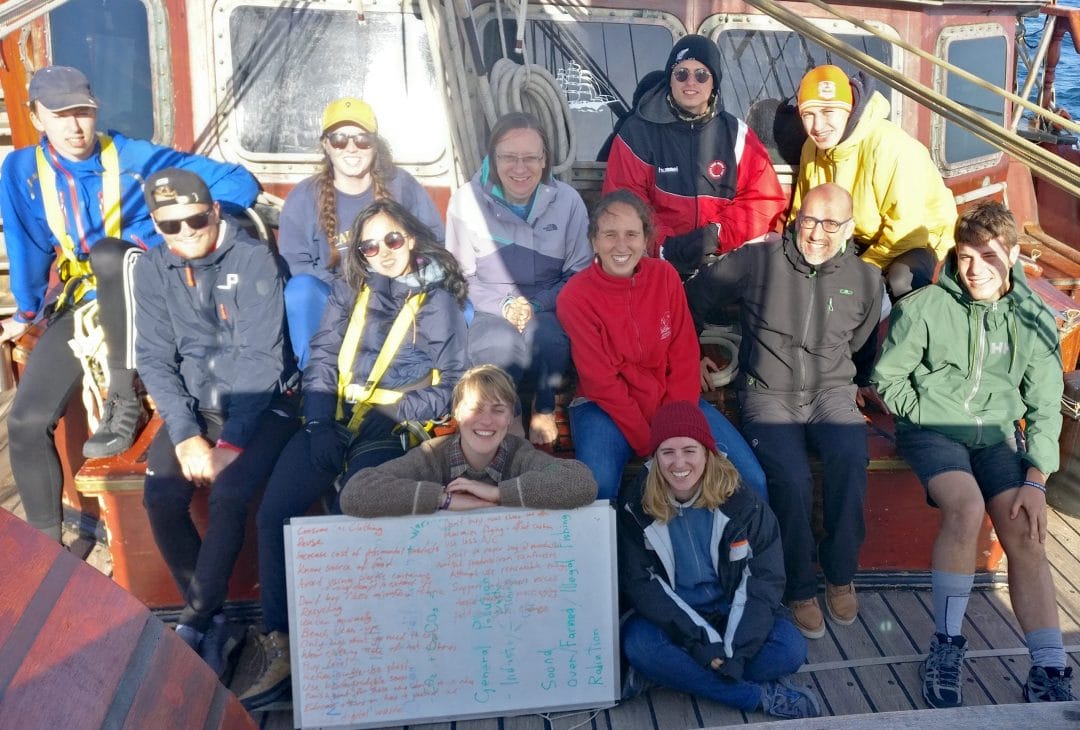 People love it! Check these transparent reviews
You can join as a premium participant
About the crew and their roles
You could never afford this?
About our Scholarship Fund