Volunteering in Bilbao (no sailing)
Live on the ship for free and get 200€ per month to sail with us
Earliest start: October 2023
Latest end: April 2024
Become part of Atyla's history
After the sailing season, Atyla stops every year in Bilbao (Spain) to carry out maintenance works and participate in cultural activities.
Join as a volunteer this period: Experience Atyla for free, contribute to improving the ship's condition and support our social cause.
To say thanks, we give you a 200€ gift card for each month you spend on board. This card is transferable, so you can give it away or even sell it if you want!
You already live in Bilbao? Come!
If you don't need accommodation, you get 15€/day (also as a gift card). The minimum stay required is the same (30 days), but you don't need to do those days in a row. You can come whenever is convenient for you.
Do you have the experience to become a crew member?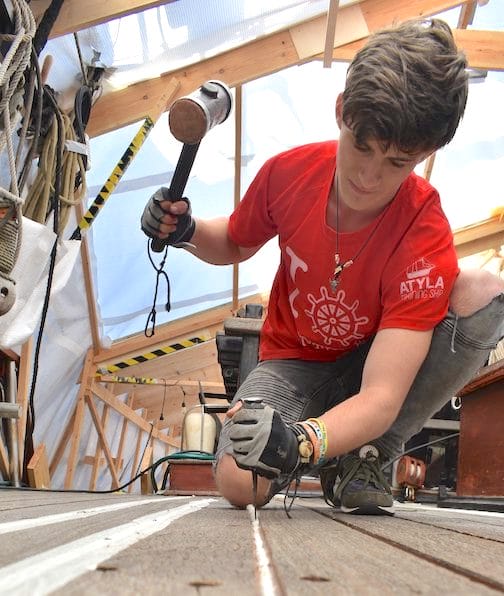 During 5 days a week, normally from 9:00 to 17:00, you'll be helping with the tasks on board. The main areas of work are the following:
Carpentry and woodwork
Repairs
Works on the rigging
Painting
Electricity and plumbing
Cooking
Cleaning
Depending on your skills, your interests and the needs on board, you can focus on one or more of them.
On Saturdays, as part of our collaboration with Itsasmuseum Bilbao we do open doors and let visitors walk around the deck. You'll take turns with the other volunteers to welcome the visitors and maintain safety.
This shouldn't take a lot of time, and it's a relaxed and pleasant task normally done in pairs or groups.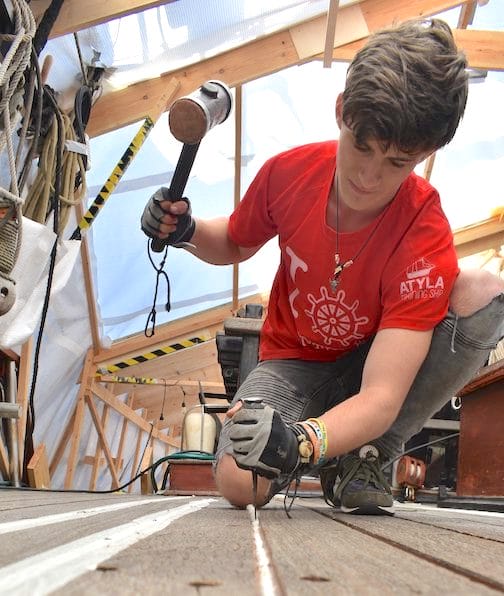 A chance to experience living on board a traditional wooden vessel.
Accommodation in your own private bunk on board the ship.
Full board (3 meals a day).
Meeting and socialising with a team of international volunteers.
Learning or improving manual crafts and technical skills.
A great experience to include in your CV.
Certificate of your volunteering for Atyla Foundation (upon request).
A floating home at the heart of Bilbao, perfect for exploring the sights, culture and food of this amazing city.
A gift card with 200€ for each month (portions of a month also count: 1.4 months on board would give you 280€). The card can be used to book any of our trips and can be given away or be sold to other people.
During your volunteering, the ship will be your home. The mood on board is very friendly and relaxed, and you'll probably make friends with the other people on board.
To try to ensure some comfort, the ship is fully equipped with facilities including heating, bathrooms with hot showers, full safety equipment and a large living room with couches and a 60-inch-TV.
In any case, this opportunity is not meant to be a vacation, and Atyla is certainly not a luxury yacht. Also, during maintenance time, some of these features might be temporarily unavailable if we need to repair or improve them.
Find reviews of previous volunteers on our Facebook page.
Wanting to work and contribute.
Having at least 30 days* available to join.
Some experience** and skills for the tasks listed above.
Being able to learn and become independent after getting guidance.***
* If you are very skilled, or you've been on board before, we might make an exception and lower this minimum.
** If you have no experience you can still apply, but you will have to stay for a longer period (2 or 3 months at least) because it might take a while until you learn to work efficiently.
*** If you need a visa to enter or stay in Europe, you will need to arrange that yourself. If we select you for the volunteering, we can provide you with a document stating that you're chosen to do a volunteering period on board. That document will be signed, stamped, and will include the contact details of our office in case the authorities need to contact us, but that's all we can do, and the work of applying for the visa and obtaining it is all yours. Of course, if you are selected and you end up not obtaining your visa we'll refund your deposit.
You'll be expected to work 40 hours a week.
You will go through an application process taking into consideration your skills, your motivation and the dates you are available.
A deposit of 200€ is required to secure your position and will be refunded at the end of your volunteering period.
The ship will most probably not sail during this time.
Ready to apply? Complete this form:
It will take you less than 10 minutes.
You can't see the form properly? Click here.
Want to see the ship first?
What's at the heart of our organisation?
Our list of adventure trips
See what can you spend your credit on