Sailing trip on Atyla ship:
Ponta Delgada – Bilbao (SEASON END)
Embarkation: 12th of October at 16:00 — Ponta Delgada (Azores)
Flexible disembarkation: 25th or 26th of October at 19:00 — Bilbao
The biggest mile-maker of the season! Sail from the beautiful Azores back to Atyla's homeport on an astonishing trip of over 1100 nautical miles, with a mix of ocean-sailing and coasts full of nature.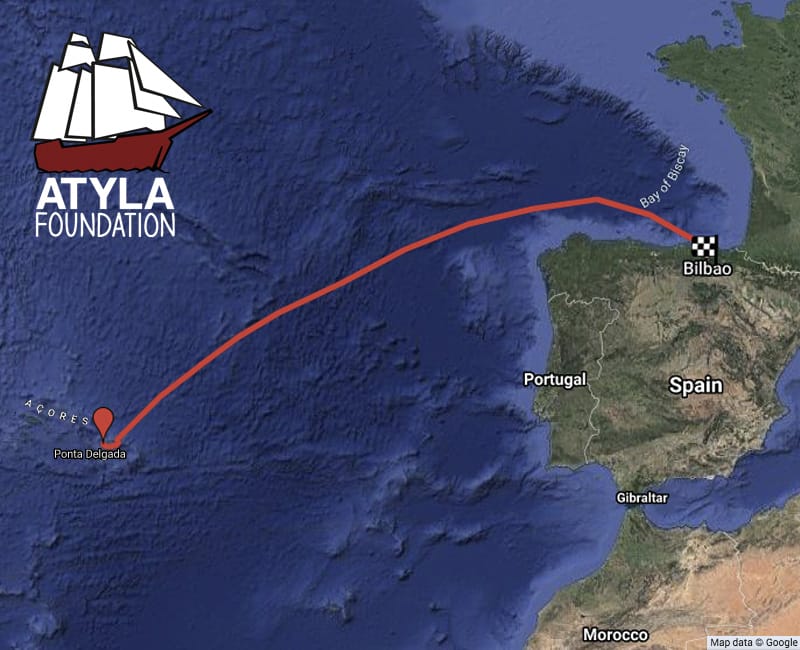 The trip starts in Ponta Delgada on the island São Miguel. On the first evening, you will get to know the crew and your fellow shipmates and then you'll have some time to enjoy the city and the astonishing nature in the island.
The next day, we will start by sailing around the west and then the north of the island of São Miguel, enjoying it's amazing beauty, before making our way across the Atlantic Ocean back to mainland Europe.
We will use the experiences and challenges we come across to learn about and improve our life skills. At the same time, the adventure of crossing a chunk of the ocean, with no land in sight for days, will teach you all about sailing the ship and being a member of the crew.
If the weather allows it, we will sail close to the Cantabric coast. This coastline is astonishing, especially from the water: with its impressive cliffs, broad beaches and immensely green nature.
After a few days of sailing, we'll arrive at the estuary of Bilbao and will travel up the Nervion river. We will pass many old shipyards and bridges, showing the maritime history of the city.
Atyla comes back to Bilbao after months of sailing all around Europe. On arrival, the people from Bilbao and even the media will come to welcome us.
That last night, we'll go out to celebrate and have dinner at a local sailors restaurant: "La Lonja". The day after, before leaving the ship, you can go with your shipmates (who will be already friends at this time) to explore the city of Bilbao.
All included:
Accommodation with full board and a private bunk bed.
Restaurant dinner on the last night of the trip.
Safety equipment on board.
Restaurant dinner on the last night of the trip.
Insurance for your time on board (see terms and conditions).
Certificated participation on our Personal development program
Official Atyla T-shirt (fair trade & organic cotton).
Other info: